Service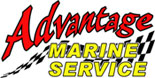 Services Offered
Inboards/Outboards
Tune Ups - Includes Fuel Injection Engines
Oil & Filter Service
Major/Minor Engine Repair
Major/Minor Stern Drive Repair
Propeller Repair
Electrical
Winterization
Personal Watercrafts
Tune Ups
Major/Minor Engine Repair
Jet Pump Service
Electrical
Winterization
Large Yachts
Plumbing
Electrical
Custom Installs
Navigation
---
Code of Ethics
Estimating Process
We will always explain exactly what repairs are required and why before we proceed with the work. In addition, when the job is done we explain the invoice thoroughly. The technician assigned to your watercraft will gladly answer any questions you may have. We can only solve your problem if we know about it, so please tell us if we have failed to meet your expectations in any way.
Labor Charges
Our technicians' time is billed out at a competitive rate. The total labor estimate is calculated by using either actual hours spent on the repair or by referring to an industry approved labor time guide for each job.
Parts
We use only high quality parts backed by the manufacturer's warranty. If requested, we will return your old parts to you.
---
Guarantees
All parts and labor is guaranteed for at least 90 days from initial service date.
Guarantee Period
Starters & Alternators 1 year parts only
Mercury Remanufactured Engines and Sterndrives 1 year parts and labor
Jasper Marine Remanufactured Engines 18 months parts and labor
Personal watercraft Engines for 1 or 2 years on parts only
As a Mercruiser Service Center we are able to do Mercruiser warranty on new boats, any make or model.
As a Mercury Service Center we are able to do any Mercury service warranty. We are also able to repower your boat with a new Mercury outboard.
---
Contact Service
616-844-9213
Advantagemarineservice@hotmail.com